Details

Hits: 182
ISSN 2410-776X (Online)
ISSN 2410-7751 (Print)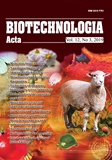 "Biotechnologia Acta" V. 12, No 3, 2019
p. 75-81, Bibliography 24, English
Universal Decimal Classification: 579.6:632.4:633.1
https://doi.org/10.15407/biotech12.03.075
MULTIPLEX-TOUCHDOWN PCR FOR RAPID SIMULTANEOUS DETECTION OF Rhizoctonia cerealis AND Rhizoctonia solani
О. Hrytsev1, 2, J. Shevchenko2, N. Vorobiova1, L. Skivka1
1Taras Shevchenko National University of Kyiv, ESC "Institute of Biology and Medicine", Ukraine
2LLC "Syngenta", Kyiv, Ukraine
The aim of the study was to develop rapid and sensitive assay for the simultaneous detection of R. cerealis and R. solani. Pure cultures of fungi were grown on a potato dextrose agar for 5 days at 28 °C, and mycelium was harvested and used for DNA extraction. Total DNA was extracted using a commercial test-systems. Molecular identification of phytopathogenic fungi was performed using a multiplex-touchdown PCR with further electrophoretic separation of amplification products in agarose gel. The specific sequence characterized amplified region primers RtubR4/RtubF4 for R. cerealis and ITS1/GMRS–3 for R. solani were tested for their specificity and useability in PCR multiplex capacity. The specificity of the multiplex-touchdown PCR was tested using DNA from wide range of fungal species and non-target DNA from healthy wheat. The used primer pairs provided only specific fragments for R. cerealis and R.solani. No PCR products were obtained during amplification with the negative control or non-target DNA templates from other species. Coupled to this we have optimized the temperature regime for the multiplex PCR protocol. Taken together, our protocol convincingly demonstrated the simultaneous ability to detect Rhizoctonia cerealis and Rhizoctonia solani and can be used for the diagnosis of compound Rhizoctonia root rot.
Key words: phytopathogenic fungi, Rhizoctonia, multiplex PCR.
© Palladin Institute of Biochemistry of National Academy of Sciences of Ukraine, 2019
References
1. Wiesw M. V. Compendium of wheat disease (3rd Ed). St. Paul, USA: APS Press. 1998, 112 p.
2. Kriuchkova L. O. Diseases of winter wheat, caused by necrotroph mushroom pathogens and methods of their diagnosis.: Aftoref. dys. … dok. biol. nauk. Kyiv. 2007, 52 s. (In Ukrainian).
3. Pletnikova N. Root rots of winter wheat. Crop protection. Ahrovіsnyk Ukrainy nauk. vyrobn. zhurn. 2008, N 3, P. 54–56. (In Russian).
4. Dur?n P., Tortella G., Viscardi S., Barra P. J., Carri?n V. J., Mora M. L., Pozo M. J. Microbial Community Composition in Take-All Suppressive Soils. Front Microbiol. 2018, V. 9, P. 2198. https://doi.org/10.3389/fmicb.2018.02198
5. Kwak Y. S., Weller D. M. Take-all of Wheat and Natural Disease Suppression: A Review. Plant Pathol J. 2013, 29 (2), 125–135. https://doi.org/10.5423/PPJ.SI.07.2012.0112
6. Laluk K., Mengiste T. Necrotroph attacks on plants: wanton destruction or covert extortion. Arabidopsis Book. 2010, V. 8, e0136. https://doi.org/10.1199/tab.0136
7. Mengiste T. Plant immunity to necrotrophs. Annu Rev Phytopathol. 2012, V. 50, P. 267–294. https://doi.org/10.1146/annurev-phyto-081211-172955
8. Kriuchkova L. O., Hrytsiuk N. V Root rot of winter wheat — distribution in the northern forest-steppe of Ukraine. Karantyn i zakhyst roslyn 2014, V. 2, P. 9–12. (In Ukrainian).
9. Markov I. L. Phytopathology: textbook / red. I. L. Markova. Kyiv: Feniks. 2016, 492 s. (In Ukrainian).
10. Li W., Guo Y., Zhang A., Chen H. Genetic Structure of Populations of the Wheat Sharp Eyespot Pathogen Rhizoctonia cerealis Anastomosis Group D Subgroup I in China. Phytopathology. 2017, 107 (2), 224–230. https://doi.org/10.1094/PHYTO-05-16-0213-R
11. Lema?czyk G., Kwa?na H. Effects of sharp eyespot (Rhizoctonia cerealis) on yield and grain quality of winter wheat. Eur. J. Plant Pathol. 2013, 135 (1), 187–200. https://doi.org/10.1007/s10658-012-0077-3
12. Hamada M. S., Yin Y. N., Ma Z. H. Detection of Rhizoctonia cerealis in wheat tissues by real-time PCR assay. J. Plant Pathol. 2012, 94 (1), 215–217.
13. Dada T. E. Epidemiology of Wheat Rhizoctonia. Int. J. Sci. Res. Publ. 2017, 7 (5), 463–473.
14. Goll M. B., Schade?Sch?tze A., Swart G., Oostendorp M., Schott J. J., Jaser B., Felsenstein F. G. Survey on the prevalence of Rhizoctonia spp. in European soils and determination of the baseline sensitivity towards sedaxane. Plant Pathology. 2014, V. 63, P. 148–154. https://doi.org/10.1111/ppa.12063
15. Woodhall J. W., Brown M. J., Perkins K., Somoza Valdeolmillos E., Boonham N., Ray R. V. A TaqMan real-time PCR assay for Rhizoctonia cerealis and its 1 use in wheat and soil. Eur. J. Plant Pathol. 2017, 148 (2), 237–245. https://doi.org/10.1007/s10658-016-1083-7
16. Sayler R. J., Yang Y. Detection and Quantification of Rhizoctonia solani AG1 IA, the Rice Sheath Blight Pathogen, in Rice Using Real-Time PCR. Plant Disease. 2007, 91 (12), 1663–1668. https://doi.org/10.1094/PDIS-91-12-1663
17. Chen S., Cao Y., Li T., Wu X. Simultaneous detection of three wheat pathogenic fungal species by multiplex PCR. Phytoparasitica. 2014. https://doi.org/10.1007/s12600-014-0442-1
18. Korbie D. J., Mattick J. S. Touchdown PCR for increased specificity and sensitivity in PCR amplification. Nat. Protoc. 2008, 3 (9), 1452–1456. https://doi.org/10.1038/nprot.2008.133
19. Yingpeng G., Wei L., Haiyan S., Ning W., Hanshou Y., Huaigu C. Detection and quantification of Rhizoctonia cerealis in soil using real-time PCR. J. Gen. Plant Pathol. 2012, 78 (4). https://doi.org/10.1007/s10327-012-0390-x
20. Johanson A., Turner H. C., McKay G. J., Brown A. E. A PCR based method to distinguish fungi of the rice sheath-blight complex, Rhizoctonia solani, R. oryzae and R. oryzae-sativae. FEMS Microbiol. Lett. 1998, 162 (2), 289–294. https://doi.org/10.1016/S0378-1097(98)00136-0
21. Kralik P., Ricchi M. A basic guide to real time PCR in microbial diagnostics: definitions, parameters and everything. Front Microbiol. 2017, V. 8, P. 108. https://doi.org/10.3389/fmicb.2017.00108
22. Sint D., Raso L., Traugott M. Advances in multiplex PCR: balancing primer efficiencies and improving detection success. Meth. Ecol. Evol. 2012, 3 (5), 898–905. https://doi.org/10.1111/j.2041-210X.2012.00215.x
23. Markoulatos P., Siafakas N., Moncany M. Multiplex polymerase chain reaction: a practical approach. J. Clin. Labt. Anal. 2002, V. 16, P. 47–51. https://doi.org/10.1002/jcla.2058
24. Ishii K., Fukui M. Optimization of annealing temperature to reduce bias caused by a primer mismatch in multitemplate PCR. Appl. Environ Microbiol. 2001, 67 (8), 3753–3755. https://doi.org/10.1128/AEM.67.8.3753-3755.2001
Details

Hits: 110
ISSN 2410-776X (Online)
ISSN 2410-7751 (Print)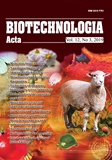 "Biotechnologia Acta" V. 12, No 3, 2019
Р. 67-74, Bibliography 24, English
Universal Decimal Classification: 579.6:632.4:633.1
https://doi.org/10.15407/biotech12.03.067
EXTRACTS OF EDIBLE PLANTS AS BENEFICIAL MICROORGANISMS GROWTH STIMULATORS
O. V. Pallah1, 2, T. V. Meleshko1, 2, V. V. Bati2, N. V. Boyko1, 2
1Uzhhorod National University, Department of Clinical and Laboratory Diagnostics and Pharmacology, Faculty of Dentistry, Ukraine
2Uzhhorod National University, Research Development and Educational Centre of Molecular Microbiology and Mucosal Immunology, Ukraine
The aim of the work was to determine the content of biologically active compounds in berries and fruits collected in ecologically clean zones, to find out their potential use for the creation of target action pharmabiotics, and the ability of extracts derived from such products to stimulate the growth of probiotic lactic bacteria strains and representatives of commensal intestinal microbiota. The content of biologically active compounds was determined by thin-layer chromatography. We established the effect of berries and fruits methan extracts on the selected strains L. acidophilus, L. catenaformis, L. casei, L. fermentum, E. coli 058, E. faecalis (gut commensals), B. subtilis 090 (component of biopreparation), which were perspective for the creation of modern pharmabiotics, according to the results of these bacteria cultivation in the specified extracts. It was found that the investigated berry extracts were characterized by a higher content of polyphenols, compared to anthocyanins. Alycha extract mainly inhibited the growth of the most lactobacilli strains that we had tested, except for B. subtilis 090. Extracts of red currant, sweet cherry, and jostaberry stimulated the growth of L. сatenaformis, while extracts of sweet cherry and jostaberry, in addition to that of the above-mentioned lactobacilli strains, also stimulated the growth of L. сasei and L. fermentum. Blueberry and plum extracts activated the growth of all lactobacilli strains. The ability to stimulate the growth of B. subtilis 090 was noted only in the extract of alycha, jostaberry, and plum.
Key words: berries, fruits, flavanoids, anthocyanins, lactobacteria, pharmabiotics.
© Palladin Institute of Biochemistry of National Academy of Sciences of Ukraine, 2018
References
1. Pandey K. R., Naik S. R., Vakil B. V. Probiotics, prebiotics and synbiotics – a review. J. Food Sci. Technol. 2015, 52 (12), 7577–7587.https://doi.org/10.1007/s13197-015-1921-1
2. Melnуk V. S., Composite biopreparation for the treatment of periodontal tissue inflammation and correction of associated gastroduodenal disorders of the intestines in children. UA 93301, September 25, 2014. (In Ukrainian).
3. Stadnitskaya N. E., Pavlyuk I. V., Dumich I. I., Gubitska I. I., Novikov V. P. Antimicrobial properties of tinctures of Scorzonera Purpurea and Hypericum Perforatum Available at http://ena.lp.edu.ua:8080/handle/ntb/28631(In Ukrainian).
4. Andrzejewska J., Sadowska K., Kloska L., Rogowski L. The effect of plant age and harvest time on the content of chosen components and antioxidative potential of black chokeberry fruit. Acta Sci. Pol. Hortorum Cultus. 2015, 14 (4), 105–114.
5. Sarvash O., Bati V., Markush N., Levchuk O., Melnyk V., Mizernytskyy O., Boyko N. Novel Antimicrobials of Complex Origin. Abstracts of the thirteenth Congress of the Society of Microbiologists of Ukraine named after. S. M. Vinogradsky. Yalta, Ukraine, 01–06 October, 2013, Р. 220.
6. Diganta D., Ray R., Hazda B. Antibacterial and antitubercular activity of selected plant products against multi-drug resistant clinical isolates. Res. 2015, V. 1021, P. 1014–1021.
7. Khomych G. P. Fruits of wild raisins – a source of biologically active substances for food products. Scientific works. 2009, 36 (2), 186–190. (In Ukrainian).
8. Roate A., Jangid A., Tale R. V. Liguid chromatography – tandem mass spectrometric method for simultaneous determination of rutin and quercetin from leaves of Artocarpus Lakoocha Roxb. Int. Journal of pharma and biosciences. 2011, 2 (1), 848–853.
9. Wrolstad R. E., Acree T. E., Decker A., Pen ner M. H., Reid D. S., Schwarts S. J., Shoemaher C. F., Smith D. M ., Sporns P. Handbook of Food Analytical Chemistry, Volume 2: Pigments, Colorants, Flavors, Texture, and Bioactive Food Components. John Wiley & Sons Inc. 2005. https://doi.org/10.1002/0471709085
10. Vinnikova O. I., Morgul I. M. Practicum on microbiology: methodical recommendations. 2nd edition, amended. KhNU named after V. N. Karazin. 2009. (In Ukrainian).
11. Bati V. V., Boyko N. V. Biological properties of strains of lactobacilli isolated from food products of vegetable origin. Scientific Journal "ScienceRise". 2016, 8/1 (25), 6–14. https://doi.org/10.15587/2313-8416.2016.76712
12. Rusin V. V., Petrov V. O., Boyko N. V. Method of prevention of purulent complications and wound infection after extraction of a tooth by bacterial suspension on the basis of Bacillus subtilis 090. UA 108567, May 12, 2015. (In Ukrainian).
13. Vitkovsky V. L. Fruit plants of the world. St. Petersburg: Lan. 2003, 592 p. (In Russian).
14. Wojciechowska O. V., Sitar O. V., Taran N. Yu. Phenolic compounds. Diversity, biological activity, prospects of application. Bulletin of Kharkiv Agrarian University. 2015, 1 (34), 104–119. (In Ukrainian).
15. Tiwari R., Rana C. S. Plant secondary metabolites: a review. International Journal of Engineering Research and General Science. 2015, 3 (5), 661–670.
16. Donovan J. L., Meyer A. S., Waterhouse A. L. Phenolic composition and antioxidant activity of Prunes and Prune juice (Prunus domestica). J. Agric. Food Chem. 1998, 46 (4), 1247–1252. https://doi.org/10.1021/jf970831x
17. Gonz?lez-Garc?a E., Puchalska P., Marina M. L., Garc?a M. C. Fractionation and identification of antioxidant and angiotensin-converting enzyme-inhibitory peptides obtained from plum (Prunus domestica L.) stones. Journal of functional foods. 2015, V. 19, P. 376–384. https://doi.org/10.1016/j.jff.2015.08.033
18. Poonam V., Kumar G., Reddy L. C., Jain R., Sharma K. S., Prasad K. A., Parmar S. V. Chemical constituents of the genus Prunus and their medicinal properties. Current medicinal chemistry. 2011, 18 (25), 3758–3824. https://doi.org/10.2174/092986711803414386
19. Plumb J., Lyons J., N?rby K., Thomas M., N?rby E., Poms R., Bucchini L., Restani P., Kiely M., Finglas P. ePlant LIBRA: A composition and biological activity database for bioactive compounds in plant food supplements. Food Chemistry. 2016, 193 (15), 121–127. https://doi.org/10.1016/j.foodchem.2015.03.126
20. Wu X., Gu L., Prior R. L., McKay S. Characterization of anthocyanins and proanthocyanidins in some cultivars of Ribes, Aronia, and Sambucus and their antioxidant capacity. J. Agric. Food Chem. 2004, 52 (26), 7846–7856. https://doi.org/10.1021/jf0486850
21. Veberic R., Slatnar A., Bizjak J., Stampar F., Mikulic-Petkovesk M. Anthocyanin composition of different wild and cultivated berry species. LWT–Food Science and Technology. 2015, P. 509–517. https://doi.org/10.1016/j.lwt.2014.08.033
22. Jakobek L., Seruga M., Seruga B., Novak I., Medvidovic-Kosanovic M. Phenolic compound composition and antioxidant activity of fruits of Rubus and Prunus species from Croatia International. Journal of Food science and Technology. 2009, P. 860–868. https://doi.org/10.1111/j.1365-2621.2009.01920.x
23. Puupponen-Pimi? R., Nohynek L., Alakomi H. L., Oksman-Caldentey K. M. Bioactive berry compounds – novel tools against human pathogens. Applied Microbiology and Biotechnology. 2005, V. 67, P. 8–18. https://doi.org/10.1007/s00253-004-1817-x
24. Nile S. H., Park S. W. Edible berries: Bioactive components and their effect on human health. Nutrition. 2014, 30 (2), 134–144. https://doi.org/10.1016/j.nut.2013.04.007