Details

Hits: 96
ISSN 1995-5537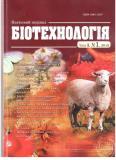 "Biotechnology" journal Vol. 3, No. 1, 2010
Р. 9-17, Bibliography 63, Ukranian.
Universal Decimal classification: 575.222.7:581.1
Institute of Cell Biology and Genetic Engineering of National Academy of Sciences of Ukraine, Kyiv
In the review the basic achievements in biotechnology of lettuce are cited. Such areas as lettuce cultivation іn vitro, development of protoplast isolation technique, somatic hybridization, regeneration of plants are considered. Achievements in the area of genetic transformation of lettuce and production of the resistant to biotic and abiotic factors transgenic plants and the plants – producers of recombinant proteins are described.
Key words: Lactuca sativa, biotechnology, somatic hybridization, genetic transformation, recombinant proteins.
© Palladin Institute of Biochemistry of National Academy of Sciences of Ukraine, 2008
Details

Hits: 102
ISSN 1995-5537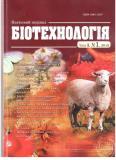 "Biotechnology" journal Vol. 3, No. 1, 2010
Р. 18-26, Bibliography 62, Ukranian.
Universal Decimal classification: 546.26.043
FULLERENES С60 - BIOLOGICALLY ACTIVE MOLECULES
І. Physicochemical properties and bioavailability
O. P. Matyshevska S. V. Prylutska I. I. Grynyuk
National Taras Shevchenko University, Kyiv
Analysis of the literature data concerning structure of a new class of nanocompounds – fullerenes C60, their physical and chemical properties, and ways of introduction into biological systems, toxicity and perspectives of using as biologically active compounds is carried out.
Key words: fullerene С60, С60 watersoluble derivatives, ROS production, bioavailability.
© Институт биохимии им. А. В. Палладина НАН Украины, 2008