Details

Hits: 95
ISSN 2410-7751 (Print)
ISSN 2410-776X (Online)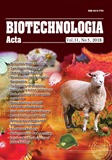 "Biotechnologia Acta" V. 11, No 5, 2018
https://doi.org/10.15407/biotech11.05.065
Р. 65-74, Bibliography 25, English
Universal Decimal Classification: 602.1:519.673+602.3:579.864
Lactobacillus AS PRODUCERS OF EXTRACELLULAR TANNASE
L. Oriabinska1, O. Dziuba1, 2, O. Dugan1
1The National Technical University of Ukraine "Igor Sikorsky Kyiv Polytechnic Institute", Kyiv
2Palladin Institute of Biochemistry of the National Academy of Sciences of Ukraine, Kyiv, Ukraine
The aim of the work was to find strains of lactic acid bacteria capable to synthesize extracellular tannase enzyme ? the key enzymehe hydrolyzing tannins which are plant food constituent. One of the main product of tannins hydrolyzis is gallic acid- the compound with proven antioxidant and onco-protective properties. As a result of lactobacteria screening, two biocompatible strains of lactic acid, namely L. rhamnosus LB3 and L. delbrueckii subsp. delbrueckii with a high level of enzyme productivity, were selected. The maximum accumulation of tannase, corresponding to 0.031 ± 0.002 U/ml for L. rhamnosus LB3 and 0.03 ± 0.002 U/ml for L. delbrueckii subsp. delbrueckii, was observed after 48 h of cultivation. Both strains showed rapid growth and performance of tannase in MRS medium in the presence of glucose or lactose as a carbon source. It was shown that gallic acid, which was a necessary component of the medium as a target enzyme inducer, did not affect the accumulation of lactobacilli biomass. The selected strains are of interest as producers of a bicomponent probiotic with antioxidant properties and require further investigation.
Key words: lactobacillus, probiotics, tannase, antioxidants, carbon sources.
© Palladin Institute of Biochemistry of National Academy of Sciences of Ukraine, 2018
References
1. Parmjit S. Panesar Fermented Dairy Products: Starter Cultures and Potential Nutritional Benefits. Food Nutr. Sci. 2011, 2, Р. 47–51. https://doi.org/10.4236/fns.2011.21006
2. Pritib Shinde Probiotic: an overview for selction and evaluation/PRITI B. SHINDE. Int. J. Pharm. Sci. 2012, 4(2), Р. 14–21.
3. Kan Shida Probiotics as efficient immunopotentiators: Translational role in cancer prevention. Ind. J. Med. Res. 2013, N 138, Р. 808–814.
4. Starovoytova S. A Oriabinska L. B., Gorchakov V. Y. , Dugan О. М. Anti-mutagenic activity of lactic acid bacteria. Scientific Bulletin of the National Mining University. 2008, No 5, Р. 53–56. (In Ukrainian).
5. Shinkarenko L. B., Oriabinska S. A., Starovoytova Antimutagenic action of the blastan preparation. Scientific Bulletin of the National Mining University. 2008, V. 4, Р. 77–81. (In Ukrainian).
6. Varsha A. Singh, Ruhi Bunger. Singh Probiotics and Gut Health. JIMSA 2014, 27 (1), 41–45.
7. Mongkol Thirabunyanon Biotherapy for and protection against gastrointestinal pathogenic infections via action of probiotic bacteria Maejo. Int. J. Sci. Technol. 2011, 5 (1), 108–128.
8. Vanessa Li?vin-Le Moal, Alain L. Servina. Anti-Infective Activities of Lactobacillus Strains in the Human Intestinal Microbiota: from Probiotics to Gastrointestinal AntiInfectious Biotherapeutic Agents. Clin. Microbiol. Rev. 2014, 27 (2), 167–199.
9. Urszula Daniluk. Probiotics, the New Approach for Cancer Prevention and/or Potentialization of Anti-Cancer Treatment. J. Clin. Exp. Oncol. 2012, No 1, Р. 1–2 . https://doi.org/10.4172/2324-9110.1000e105
10. Aguilar C. N. Review: Sources, Properties, Applications and Potential uses of Tannin Acyl Hydrolase. Food Sci. Technol. Intern. 2001, V. 7, P. 373–382. https://doi.org/10.1106/69M3-B30K-CF7Q-RJ5G
11. Lenka P. К., Lonsane B. K. Production and application of tannin acyl hydrolase: State of the art. Adv. Appl. Microbiol. 1997, 44, 215–260.
12. Bhat T. K., Singh B., Sharma O.P. Microbial degradation of tannins – a current perspective. Biodegradation 1998, 9 (5), 343–357.
13. Smith A. H., Zoetendal E., Mackie R. I. Bacterial mechanisms to overcome inhibitory effects of dietary tannins. Microb. Ecol. 2005, 50 (2),197–205.
14. Mingshu L., Kai Y., H. Dongying Q. J. Biodegradation of gallotannins and ellagitannins. J. Basic Microbiol. 2006, 46 (1), 68–84. https://doi.org/10.1002/jobm.200510600
15. Belmaresa R., Contreras-Esquivela J. C., R. Rodr??guez-Herreraa, A. R. Coronelb, C. N. Aguilara Microbial production of tannase: an enzyme with potential use in food industry. Food Sci. Technol. 2004, 37 (8), 857–864. https://doi.org/10.1002/jobm.200510600
16. Purohit J. S., Dutta J. R., Nanda R. K., Banerjee R. Strain improvement for tannase production from co-cultureof Aspergillus foetidus and Rhizopus oryzae. Bioresour. Technol. 2006, 97, 795–801. https://doi.org/10.1016/j.biortech.2005.04.031
17. Yumnam S., Prasanna В., Oriabinska L. B., Khrokalo L. A., Dugan O. M. Оptimization of tannase positive probiotic production by surface response. Biotechnol. аcta. 2014, 7 (5), 62–70. https://doi.org/10.15407/biotech7.05.062
18. Glushanova N. A., Shenderov B. A. Interaction of probiotic and indigenous lactobacilli of host in conditions of joint cultivation in vitro. J. microbial., epidemiol. and an immunobiol. 2005, No. 2, P. 56–61. (In Russian).
19. Postnikova E. A., Yefimov N. N., Volodin L. I., Kafarskaya L. I. Search for promising strains of bifidobacteria and lactobacilli for the development of new biopreparations. ZHMEI 2004, V. 2, Р. 64–69. (In Russian).
20. Beili N. Statistical Methods in Biology. Moscow: Publishing House of Foreign Literature. 1962, 260 p. (In Russian).
21. Jana A., C Maity, Halder S. K., Mondal K. C., Pati B.R., Mohapatra P. K. Enhanced tannase production by Bacillus subtilis PAB2 with concomitant antioxidant production. Biocatal. Agric. Biotechnol. 2013, V. 2, P. 363–371. https://doi.org/10.1016/j.bcab.2013.06.007
22. Sivashanmugam K., Jayaraman G. Production and partial purification of extracellular tannase by Klebsiella pneumoniae MTCC 7162 isolated from tannery effluent. Afr. J. Biotechnol. 2011, V. 10, P. 1364–1374.
23. Wilson P. A., Rojan P. J., Kuma P., Sabu T. Tannin acyl hydrolase production by Citrobacter sp. isolated from tannin rich environment, using Tamarindus indica seed powder. J. Appl. Sci. Environ. Manage. 2009, V. 13, P. 95–97. https://doi.org/10.4314/jasem.v13i4.55434
24. Bradoo S., Gupta R., Saxena R.K. Parametric optimization and biochemical regulation of extracellular tannase from Aspergillus japonicas. Proc. Biochem. 1997, V. 32, P. 135–139.
25. Rodriguez H., Rivas B., Gomez-Cordoves C., Munoz R. Characterization of tannase activity in cell-free extracts of Lactobacillus plantarum CECT 748T Int. J. Food Microbiol. 2008, V. 121, P. 92–98. https://doi.org/10.1016/j.ijfoodmicro.2007.11.002
Details

Hits: 83
ISSN 2410-7751 (Print)
ISSN 2410-776X (Online)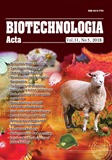 "Biotechnologia Acta" V. 11, No 5, 2018
https://doi.org/10.15407/biotech11.05.054
54-64Р. , Bibliography 63, English
Universal Decimal Classification: 579:662.7
THE STRUCTURE AND PROPERTIES OF MICROBIOCENOSIS IN DUMPS OF THE FUEL AND ENERGY COMPLEX OF UKRAINE
I. A. Blayda, T. V. Vasylieva, L. I. Sliusarenko, S. N. Shuliakova, V. F. Кhitrich
Odesa National Mechnykov University, Ukraine
The work aimed to conduct complex chemical and microbiological study of the dumps of the fuel and energy complex of Ukraine. It is established that the qualitative composition of the aboriginal microbiota of the studied technogenic substrates does not to depended on the storage time, because it was determined by the chemical and mineralogical compositions and is mainly represented by the heterotrophic and acidophilic chemolithotrophic bacteria (AСB). It is noted that the number of all groups of microorganisms in dumps increased during long term storage due to internal processes and the impact of external climatic factors. In our experiment the ACB association demonstrated the maximum leaching activity when the divalent iron was as an energy source. It is also noted that the "silicate" bacteria present in the aboriginal consortium and have no leaching activity, significantly increase bioleaching rates by ACB. The results of the study indicate on the formation of resistant specific microbiocenoses in the dumps of the fuel and energy complex that can be used as sources of highly active strains obtaining for use in biotechnological processes of metal extraction.
Key words: aboriginal community, dumps, bioleaching
© Palladin Institute of Biochemistry of National Academy of Sciences of Ukraine, 2018
References
1. Galetskii L. S., Naumenko U. Z., Pilipchik A. D. Technogenic deposits are a new non-traditional source of mineral raw materials in Ukraine. Ekolohiia dovkillia ta zabezpechennia zhyttediialnosti. 2002, 5(6), 77–81. (In Ukrainian).
2. Pashkov G. L., Saykova S. V., Kuz'min V. I. Ash of natural coals is an unconventional source of raw materials of rare elements. Zhurnal Sibirskogo federal'nogo universiteta. Seriia: Tekhnika i tekhnologii. 2012, V. 6, P. 520–530. (In Russian).
3. Blayda І. A. Extraction of valuable metals during industrial wastes processing by biotechnological methods (Review). Energotehnologii i resursosberezhenie. 2010, V. 6, P. 39–45. (In Russian).
4. Blaida I. A., Vasileva T. V., Sliusarenko L. I., Khitrich V. F., Ivanytsia V. A. Extraction of rare and nonferrous metals by microbial communities of the ash from burning Pavlograd's coal. Mikrobiologiya i Biotekhnologiya. 2012,V. 3, P. 91–101. (In Russian).
5. Karavayko G. I., Kuznetsov S. I., Golomzik A. I. The role of microorganisms in leaching metals from ores. Moskva: Nauka. 1972, 248 p. (In Russian).
6. Ivanov M. V., Karavayko G.I . Geological microbiology. Mikrobiologiya. 2004, 73(5), P. 581–597. (In Russian).
7. Tolstov E. A., Latyshev V. E., Lil'bok L. A. Possibilities of using biogeotechnology in leaching of poor and refractory ore. Gornyj zhurnal. 2003, V. 8, P. 63–65. (In Russian).
8. Methods for General Bacteriology. V. 2. Moskva: Mir. 1984, 265 p. (In Russian).
9. Karavayko G. I., Rossi Dzh., Agate A. Biotechnology of metals. A Practical Guide. Moskva: Tsentr mezhdunarodnykh proektov GKNT. 1989, 375 p. (In Russian).
10. Khavezov I., Tsalev D. Atomic Absorption Analysis. Leningrad: Khimiya. 1983, 144 p. (In Russian).
11. Vasileva T. V., Blaida I. A., Ivanytsia V. A. The main groups of microorganisms involved in the biohydrometallurgical process. Problemy ekolohichnoi biotechnologii. Available at http://jrnl.nau.edu.ua/index.php/ ecobiotech/article/view/4678 (accessed, June, 2013)
12. Shuang Mi, Jian Song, Jianqun Lin, Yuanyuan Che, Huajun Zheng, Jianqiang Lin. Complete Genome of Leptospirillum ferriphilum ML-04 Provides Insight into Its Physiology and Environmental Adaptation. The Microbiological Society of Korea. 2011, 49(6), 890–901. https://dpi.org/10.1007/s12275-011-1099-9
13. Giaveno A., Lavalle L., Chiacchiarini P., Donati E. Bioleaching of zinc from lowgrade complex sulfide ores in an airlift by isolated Leptospirillum ferrooxidans. Hydrometallurgy. 2007, 89(1–2), 117–126. https://dpi.org/10.1016/j.hydromet.2007.07.002
14. Andreyuk E.I., Kozlova I.A. Lithotrophic bacteria and microbiological corrosion. Kiyv: Naukova dumka. 1977, 164 p. (In Russian).
15. Zhou Qiu Guan, Bo Fu, Hong Bo Zhou. Isolation of a strain of Acidithiobacillus caldus and its role in bioleaching of chalcopyrite. World J. Microbiol. Biotechnol. 2007, 23(9), 1217–1225.
16. Kukanova S. I. Heterotrophic microorganisms and their role 3 processes of gold extraction from non-standard raw materials. Ph.D. dissertation. Dept. Rudnoi mikrobiologii i bio-geotehnologii. Institut mikrobiologii Respubliki Uzbekistan, Tashkent, 1992. (In Russian).
17. Karavayko G. I., Belkanova N. P., Eroshchev-Shak V. A., Avakyan Z. A. The role of microorganisms and some physicochemical factors of the environment in the destruction of quartz. Mikrobiologiya. 1984. V. 53 (6), P. 976–981. (In Russian).
18. Torma A. E. The role of Thiobacillus ferrooxidans in hydrometallurgical processes. Adv. Biochem. Engin. 1977, 6, 1–37. https://dpi.org/10.1007/3-540-08363-4_1
19. Tributsch H. Direct vs indirect bioleaching. Hydrometallurgy. 2001, 59(2-3), 177–185. https://dpi.org/10.1016/S0304-386X(00)00181-X
20. Sokolova G. A., Karavayko G.I. Physiological and geological activity of thiobacteria. Moskva: Nauka. 1964, 332 p. (In Russian).
21. Blaida I. A., Vasileva T. V., Semenov K. І., Baranov V. I., Ivanytsia V. A. A two-stage method of bioleaching of gallium and germanium. UA Patent 104268. January 25, 2016. (In Ukrainian).