Details

Hits: 35
ISSN 1995-5537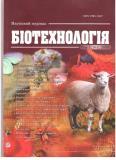 "Biotechnology" journal Vol. 2, No. 2, 2009
Р. 111-117, Bibliography 16, Ukrainian.
Universal Decimal classification: 615.373: 535..394:620.266.1

Palladin Institute of Biochemistry, National Academy of Sciences of Ukraine, Kyiv;
National Agricultural University, Kyiv
Institute of Molecular Biology and Genetics,National Academy of Sciences of Ukraine, Kyiv
A possibility of application of optimal immune biosensor based on surface plasmon resonance for express determination of trichotecen mycotoxin T-2 in solution has been investigated. Two variants of T-2 toxin determination by surface plasmon resonance immunosensor method have been proposed. It was shown opportunity of «direct» determination of T-2 with the detection limit of about 20 ng/ml and for «competitive» mode with the detection limit on the level of about 1 ng/ml. The effectiveness of application of such organic compounds as polyelectrolytes and thiols for sensible surface modification of SPR spectrometer for T-2 analysis in solutions was studied. Direct determination by using dodecanethiol and polyelectrolyte for surface modification allows to determine T-2 toxin at levels of 5 ng/ml and 2 ng/ml accordingly in case of using both poly- and monoclonal antibodies.
Key words: immobilization, T2 toxin, surface plasmon resonance, polyelectrolyte, dodecantiol.
© Palladin Institute of Biochemistry of National Academy of Sciences of Ukraine, 2008
Details

Hits: 31
ISSN 1995-5537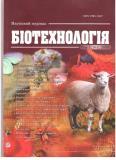 "Biotechnology" journal Vol. 2, No. 2, 2009
Р. 9-22, Bibliography 95, Russian.
Universal Decimal classification: 615.37: 615.246.2
IMMUNOADSORРTION FOR THERAPY OF AUTOIMMUNE DISEASES
K. I. Bardakhivska, N. M. Gurina, T. M. Kuchmerovska, V. G. Nikolaev
R. E. Kavetsky Institute of Experimental Pathology, Oncology and Radiobiology
National Academy of Sciences of Ukraine, Kyiv
O. V.Palladin Institute of Biochemistry
National Academy of Sciences of Ukraine, Kyiv
In review, application of immunoadsorption for therapy of autoimmune diseases is elucidated. It was focused on the most widespread autoimmune diseases, such as rheumatoid arthritis, systemic lupus erythematosus, multiple sclerosis and other. Current knowledge concerning pathogenesis of autoimmune diseases was also covered. Treatment of these diseases due to coplexity of the underlying mechanisms requires new approaches besides using traditional therapy. Growing evidence suggests that such approaches may include immunoadsorption. It was demonstrated that immunoadsorption may be applied as main or additive method in combined therapy of autoimmune diseases due to its high efficacy and safety.
Key words: immunoadsorbtion, immunosorbent, autoimmune diseases.
© Palladin Institute of Biochemistry of National Academy of Sciences of Ukraine, 2008I