Details

Hits: 73
ISSN 1995-5537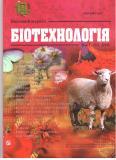 "Biotechnology" journal Vol. 1, No. 3, 2008
P. 64-71, Bibliography. 21, укр.
Universal Decimal classification: 577.15 + 543.6 + 543.9 + 543.55
Institute of Molecular Biology and Genetics, of National Academy of Sciences of Ukraine, Kyiv
Taras Shevchenko Natoinal University, Kyiv
Institute of Cell Biology, of National Academy of Sciences of Ukraine, L'viv
Ivan Franko State Pedagogical University, Drogobych
The paper presents comparative effectiveness analysis of glycerol oxidase preparations, used for development of amperometric biosensor for glycerol determination, which are different in method of preparation and in characteristics.
Enzyme preparation, whose immobilization on transducer surface results in sensor demonstrating its best operational characteristics, was selected. PH-optimum for the operation of the developed amperometric biosensor was determined; the values of buffer volume and background electrolyte concentration in buffer were shown to have no effect on the work of glycerol biosensor. The analysis of glycerol concentration in sample solutions was carried out using the developed amperometric biosensor based on glycerol oxidase.
Key words: amperometric biosensor, glycerol oxidase, glycerol, immobilization, electrochemical polymerization.
© Palladin Institute of Biochemistry of National Academy of Sciences of Ukraine, 2008
Details

Hits: 73
ISSN 1995-5537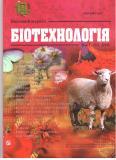 "Biotechnology" journal Vol. 1, No. 3, 2008
P. 56-63, Bibliography. 13, укр.
Universal Decimal classification: 581.143.6:576.5+663.1
Institute of Molecular Biology and Genetics of National Academy of Sciences of Ukraine, Kyiv
E. plantagineum tissue culture has been generated from the roots of seed shoots on 5C01 agarized nutrient medium. Cultivation on the LS-m nutrient medium induced biosynthesis of the red shikonin pigments. Variant of callus tissue (3Ep), accumulating 2.11% of shikonin derivatives per dry biomass whose yield on the 14th day of growth constituted up to 16 mg/L of nutrient medium was selected. Through the thin layer chromatography (in Sorbfill UV 254 plates) and column chromatography (Silica gel 60) there was evaluated the spectrum of shikonin derivatives in the course of culture establishment. Organogenic culture at the first steps of culturing on the LS-m nutrient medium was found to synthesize alongside with red fractions of shikonin pigmentes the blue ones as well. But after 1,5 year of cultivation Echium callus cells synthesized exclusively red fractions of shikonin pigments.
Key words: Echium plantagineum L., plant tissue culture, red pigments, shikonin derivatives, cell lines, producents of biologically active substances.
© Palladin Institute of Biochemistry of National Academy of Sciences of Ukraine, 2008