ISSN 2410-7751 (Print)
ISSN 2410-776X (Online)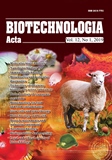 "Biotechnologia Acta" V. 12, No 1, 2019
Р. 81-85, Bibliography 13, English
Universal Decimal Classification: 576.3 + 612.014.2 / 3
https://doi.org/10.15407/biotech12.01.081
EXPRESSION OF ESTROGEN AND PROGESTERONE RECEPTORS BY HUMAN ENDOMETRIAL MULTIPOTENT MESENCHYMAL STROMAL/STEM CELLS in vitro
UNDER HYPOXIA CONDITIONS
A. V. Zlatska1, 2, I. M. Gordiienko1, 3, D. О. Zubov1, 2, R. G. Vasyliev1, 2, S. N. Novikova1
1State Institute of Genetic and Regenerative Medicine of the National Academy of Medical Sciences of Ukraine, Kyiv
2Biotechnology Laboratory "Ilaya Regeneration",Medical Company "Ilaya", Kyiv, Ukraine
3RE Kavetsky Institute of Experimental Pathology, Oncology and Radiobiology of the National Academy of Sciences of Ukraine, Kyiv
The aim of the study was to investigate the level of estrogen (ESR1, ESR2) and progesterone (PGR) receptors expression in the primary culture of endometrial multipotent mesenchymal stromal/stem cells endometrial multipotent mesenchymal stem cells and during in vitro cultivation under different athmospheric oxygen content. The dynamics of changes in the level of expression of the sex hormones receptors in the primary culture and during cultivation under different oxygen content in the athmosphere was shown.
Key words: human endometrium, multipotent mesenchymal stromal cells, expression of the receptors to the sex hormones, estrogen, progesterone.
© Palladin Institute of Biochemistry of National Academy of Sciences of Ukraine, 2019
References
1. Haydukov S. N., Boiarskiy Y. K., Palchenko N. A. Modern view on the problem of receptivity and thin endometrium in ART programs. Problemy reproduktsiyi. 2013, N 4, P. 51–60. (In Russian).
2. Kasius A., Smit J. G., Torrance H. L., Eijkemans M. J., Mol B. W., Opmeer B. C., Broekmans F. J. Endometrial thickness and pregnancy rates after IVF: a systematic review and meta-analysis. Hum. Reprod. Update. 2014, 20 (4), 530–541. https://doi.org/10.1093/humupd/dmu011
3. Margalioth E. J., Ben-Chetrit A., Gal M. Eldar-Geva T. Investigation and treatment of repeated implantation failure following IVF-ET. Hum. Reprod. 2006, 21 (12), 3036–3043. https://doi.org/10.1093/humrep/del305
4. Giulmamedova I. D., Dotsenko O. S., Savchenko I. V., Giulmamedova O. A. "Modern views on the diagnosis and correction of implant receptivity of the endometrium (literature review)." Taurian medical and biological bulletin. 2016, 16 (2), 169–174.
5. Sasson I. E., Taylor H. S. Stem cells and the pathogenesis of endometriosis. Ann. N. Y. Acad. Sci. 2008, V. 1127, P. 106–115. https://doi.org/10.1196/annals.1434.014
6. Edwards R. G. Human implantation: the last barrier in assisted reproduction technologies? Reprod. Biomed. Online. 2006, V. 13, P. 887–904. https://doi.org/10.1016/S1472-6483(10)61039-5
7. Dunson D. B., Colombo B., Baird D. D. Changes with age in the level and duration of fertility in the menstrual cycle. Hum. Reprod. 2002, P. 1399–1403. https://doi.org/10.1093/humrep/17.5.1399
8. Noyes R., Hertig A., Rock J. Dating of endometrial biopsy. Fertil. Steril. 1950, V. 1, P. 3–25; Noyes R. W., Hertig A. T., Rock J. Dating the endometrial biopsy. Am. J. Obstet Gynecol. 1975, V. 122, P. 262–263.https://doi.org/10.1016/S0002-9378(16)33500-1
9. Boomsma C. M., Kavelaars A., Eijkemans M. J., Lentjes E. G., Fauser B. C., Heijnen C. J., Macklon N. S. Endometrial secretion analysis identifies a cytokine profile predictive of pregnancy in IVF. Hum. Repro. 2009, V. 24, P. 1427–1435. https://doi.org/10.1093/humrep/dep011
10. Doorn J., Moll G., Le Blanc K. Therapeutic applications of mesenchymal stromal cells: paracrine effects and potential improvements. Tissue Eng. 2012, 18 (2), 101–115. https://doi.org/10.1089/ten.teb.2011.0488
11. Xiaolong Meng. Endometrial regenerative cells: A novel stem cell population. J. Translat. Med. 2007, V. 5, P. 57. https://doi.org/10.1186/1479-5876-5-57
12. Dominici M. I., Le Blanc K., Mueller I., Slaper-Cortenbach I., Marini F., Krause D., Deans R., Keating A., Prockop Dj., Horwitz E. Minimal criteria for defining multipotent mesenchymal stromal cells. The International Society for Cellular Therapy position statement. Cytotherapy. 2006, 8 (4), 315–317. https://doi.org/10.1080/14653240600855905
13. Zlatska A. V., Rodnichenko A. E., Gubar О. S., Zubov D. О., Novikova S. N., Vasyliev R. G. Obtaining of multipotent mesenchymal stromal cells from minimal endometrial biopsy. Biotechnol. acta. 2018, 11 (1), 76–81. https://doi.org/10.15407/biotech11.01.076